At Braeburn we breed to a wide variety of North American
and European stallions of proven and unique bloodlines.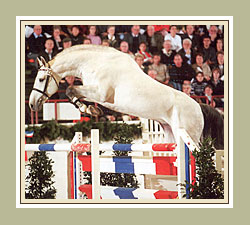 Cassini II
Cassini II, the younger full brother of Cassini I, was approved in Holstein in 1996 with a high jumping index. Unfortunately he was injured when young and did not compete in sport although is now sought after as a sire due to his quality and talented offspring. At his Licensing he achieved high scores for his jumping as well as for his character and temperament. Cassini I & II are sons of the great Capitol I. Capitol I was on the top of the WBFSH (World Breeding Federation for Sport Horses) rankings lists 2000-2001. There are over 25 approved stallions by Capitol in Holstein, for example Dobel's Cento, Carthago Z, Carolus I & II, Calato, Cardento, C-Indoctro, Carano and Clearway as well as the Cassini brothers. Worldwide there are many more approved sons and in Germany alone there are 564 registered sport horses which have won in excess of €5.3 million in prize money. Capitol I was a valuable foundation sire in the Holstein stud book.
---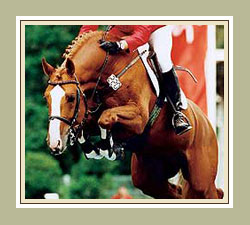 Couleur Rubin
Chestnut 16.2 Oldenburg
CR is a Premium approved Oldenburg stallion by Cordalame Z. He has been competing in the international ring under Ludger Beerbaum. The first offspring of Couleur Rubin stand out because of their high degree of elasticity and sporty look which contributes to their talent in the jumping ring. Many offspring have already won in Young Jumping Horse classes at Novice and Elementary levels. In the 2004 FN Breeding Rankings Couleur Rubin held the sixth place.
---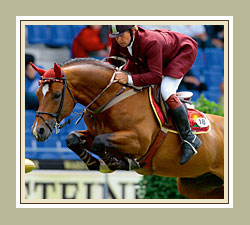 Arko III
Bay 16.2 Hanoverian
By the world famous Argentinus, out of Unika, Arko III has been the top horse in Europe for the last three years. Some of his tremendous achievements include representing Britain in the 2004 Athens Olympic Games, winning the Dubai Classic and was 2nd in the Dubai Grand Prix in 2006. He won the CSIO Rome Grand Prix as well as the CSIO Luscern Grand Prix and was 2nd in the Cannes Grand Prix. Arko III began breeding in France in 2009. He has only been used lightly at stud as his rider didn't want to mix competition and breeding careers, but has sired some very impressive offspring who have produced some wonderful performances in the young horse classes.
---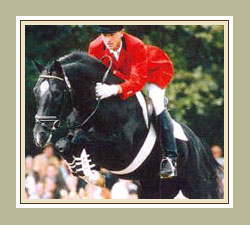 Escudo I
Black 16.1 Hanoverian
Escudo I was the winner of the stallion performance test in 1994 and achieved a convincing 144.90 points in the jumping category. He is a son of the Celle State stallion Espri, who is known worldwide for producing outstanding jumping horses, such as "E.T." Escudo I exhibited phenomenal jumping talent at testing and won the six-year-old Jumper Champion title in 1997. He was also the winner of several show jumping competitions at "S" level in 1999. Escudo I is outstanding in type and expression, is well-muscled and has excellent gaits. So far, Escudo I has produced convincing crops of foals, including several winning foals at regional foal shows and the top price foal of the Verden Spring Auction in 1998.
---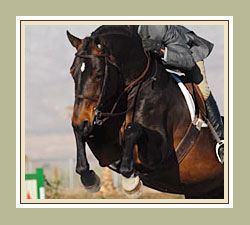 Westporte
Dark Bay 16.3 Hanoverian
Westporte is an imported Hanoverian by Wolkentanz out of St. Pr. Farah by Fabriano. He obtained his 2 year Hanoverian breeding license in Germany based on his movement, jumping ability and conformation. He is approved with the Oldenburg N. A. ISR and Canadian Sport Horse Association, Rheinland Pfalz Saar (RPSI) and Canadian Warmblood. Westporte has been shown in the professional and amateur hunter divisions. He consistently places in the top 3 over fences and under saddle in the Conformation and working divisions at AA rated shows. Westporte was awarded horse of the year for USEF zone 9. 2007 he was mid-circuit champion Green Conformation hunter and reserve AA 18-35 in Thermal California. He has been champion at every major show on the West Coast in the professional and amateur divisions. Westporte is owned by Country Lane Warmbloods out of British Columbia, Canada.
---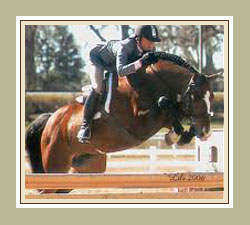 Cabardino
Bay 16.1 Holsteiner
Cabardino is an exceptional 4' hunter that has won classes everywhere from the Royal Winter Fair to West Palm Beach. His accolades include Working Hunter Champion WEF 2007 and Combined Hunter Champion at the Royal Winter Fair in 2006 and 2007. As a testament to his amazing personality Cabardino was shown by an amateur in 2008 ending up Champion of the Zone in Ontario and winning the Royal Winter Fair Grand Amateur Hunter Champion. Cabardino has recently been competing in the jumpers and has been doing well at the Grand Prix level throughout Canada and the United States. Cabardino is owned by W Charlot Farms based out of Stratford, Ontario, Canada.
---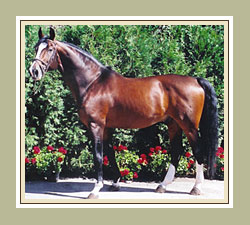 Rio Grande
Bay 17.1 Hanoverian
During his illustrious competition career Rio excelled first as a dressage horse, then in the hunter ring, and then finally as an International Show Jumper. Rio Grande is a proven producer of performance horses. His daughter Rio's Rhapsody has won several Grand Prix under Erynn Ballard. Catwalk was the winner of two World Cup Qualifiers in Canada in 2007. Rio Grande is best known for producing some of the best hunters currently competing in North America such as 2002 AHSA Horse of the Year Rio Bronco or Rio   Renoir - Champion at the $ 60,000 National Horse show. Rio produced numerous WEF Champions such as Eye Remember Rio, Due North, Rio's Echo and Rio Bravo. Rio Grande has been in the top 5 of the USEF Hunter Sire ranking for several years now. Please visit W Charlot Farms for more information on Rio Grande.
---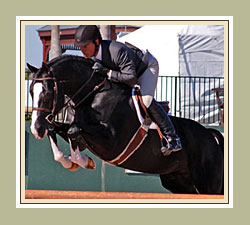 Redwine
Black 16.1 Hanoverian
Redwine is a modern, elegant black Hanoverian stallion possessing sheer beauty and presence of a class rarely seen. He completed the 30 day and 70 day testing in Germany and was awarded admirable scores in all areas, most notably rare 10's for character, constitution and rideability. His striking appearance is accentuated by his lovely hunter movement and impressive style over fences. Due to his popularity with mare owners, Redwine has had little time for competing, but most recently he has been showing with great success in the hunter ring with Peter Pletcher. Redwine is based out of Gray Fox Farms in California, USA.
---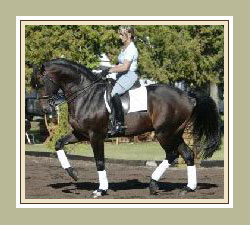 Any Tyme
Dark Bay 16.3 Oldenburg
Any Tyme was performance tested at Adelheisdorf, Germany and is an Oldenburg licensed stallion. Any Tyme is a top breeding stallion with international quality bloodlines for jumping and dressage. He was selected for the final Top Stallions born in 1996 in Oldenburg, Germany for his first year offspring. He is owned by Good Tyme Stables of Quebec, Canada.
---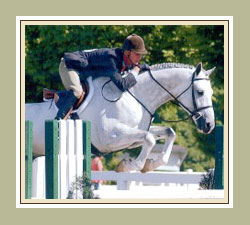 Asher
Grey 16.1 Trakehner
Asher is a Trakehner stallion by Storyteller (Heinzelmann). In 2007 he was Grand Champion stallion at the Royal Winter Fair, and has been CSHA Year end Grand Champion stallion for 5 yrs running. Asher carries top jumping bloodlines through both his sire and dam. Asher's dam, Alouette *E*, was an elite mare, who's dam was the immortal Abiza *E*, the dam of Abdullah. Asher's best feature is his calm, quiet temperament. He is passing this on to his offspring as well as throwing very large, attractive foals with correct conformation, floating movement and jumping ability. Asher is owned by NCF Stables based in Ontario, Canada.
---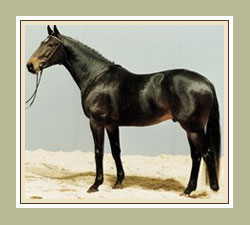 Maurice
Dark Bay 17.0 Hanoverian
Maurice won his 1988 Stallion Licensing in Germany with 122.59 points. At his Stallion Performance test he placed 6th out of 38 Stallions. He stood at the German National State Stud in Celle from 1990-1995. He has a great character, wonderful movement and excellent rideability which he passes to his offspring. His foals perform in dressage, jumping and 3-day eventing. Maurice himself has had a very successful show career as an advanced level dressage horse in Europe and North America and was long-listed for the Canadian Dressage Team in 2003.